BEST AUTOMATIC TRANSMISSION ADDITIVE FOR SLIPPING Overview
If you've suddenly discovered your vehicle's automatic transmission slipping, you've come to the perfect place! This post will look at the best automatic transmission additive for slipping.
This list will help you solve problems with slipping automatic transmissions and help you choose the best one for you.
Lucas LUC10009 Transmission Fix
Lucas Lubricants manufactures some of the best automatic transmission additives on the market, with a reputation for producing excellent results.
Despite being a relatively new product on the market, the Lucas LUC10009 nevertheless delivers outstanding performance and is strongly advised for transmission issues like slipping transmission, leaks, and complex shifting problems. It provides the ideal balance of affordability and performance.
The LUC10009 is a solvent-free composition that is meant to avoid foaming. It also helps lower the transmission fluid's working temperature, preventing seal leakage.
Pros
Prevents foaming
Eliminates seal leaks
Eliminates slippage issues
Affordable
Cons
Not ideal for damaged transmission systems
Not ideal for old vehicles
Hot Shot's Secret Shift Restore
The Hot Shot's Secret Shift Restore is a product that repairs and prevents automatic transmission sliding. It includes a specific composition designed to clean and lubricate the metal components inside your vehicle's transmission.
After many years of use, residue develops and clings to the metal parts of the transmission. Shift Restore will eliminate residual metal deposits and dissolve them into the transmission fluid.
Pros
Ideal for both diesel and gas vehicles
Reduces wear and tear
Dissolves varnish and gum buildups
Cons
Expensive
Prolong Super Lubricants PSL15000
The PSL15000 additive from Prolong Super Lubricants is one of the best and most well-known transmission additives available. This transmission additive is suitable for both automatic and manual transmissions.
Prolong Super Lubricant reacts with metal surfaces by generating molecules. These molecules provide a protective coating within the transmission system, reducing heat and friction.
Pros
Works for new and old vehicles
Protects all metal surfaces
Works with automatic and manual transmissions
Cons
Expensive
It doesn't protect against leaks
Sea Foam Trans Tune
Sea Foam is well-known for its ability to repair a sluggish engine, but the company can also assist with transmission problems. If you're worried that your transmission isn't shifting smoothly and your fluid is getting dirty, Sea Foam Trans Tune could be the solution.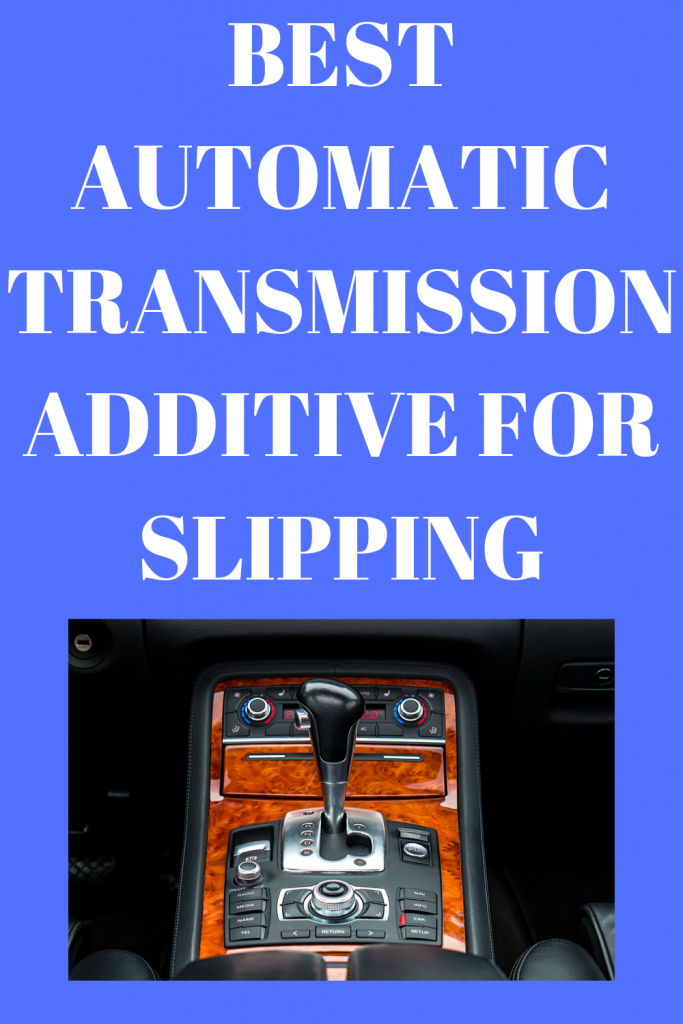 This product starts by dislodging any gear and valve body debris. This process will result in a cleaner valve body, giving you smoother shifts and fewer gear hang-ups.
Additionally, the Sea Foam dehumidifies the system by absorbing moisture while cleaning and conditioning the transmission fluid.
Pros
Ideal for use before flushing your transmission
Cleans fluid passages
Ideal for long-term protection
Cons
It doesn't stop leaks
Costly
Bar's Leaks Transmission Repair
This transmission additive restores performance by cleaning the valve body and the gears' gaps. This product ensures proper fluid flow and minimizes forceful gear shifts and slippage.
Additionally, it strengthens the various gaskets and seals and the shift bands. The product's bottle offers a leak-proof guarantee, which makes perfect sense for a brand known for doing so.
Pros
improves shift performance
stops leaks
Prevents excessive friction and heat
Cons
Requires several treatments for worn transmissions
Choosing the best transmission additives for slipping might be confusing because so many are in the market. We hope this article has helped clarify some of the most well-known devices on the market that are used to stop automatic transmission sliding.
Whatever you decide, remember to keep tabs on your fluid levels and look for leaks or other signs of concern!